Kota Kinabalu (Sabah, Borneo)
After these great few days (including lots of catching up with Lori, whom I hadn't seen for 4 months!), we boarded our flight to our next destination: Kota Kinabalu in Sabah (Malaysian part of Borneo). I always thought that distances are pretty short within all of South East Asia, but the flight from Kuala Lumpur to Kota Kinabalu took nearly 2 ½ hours… And after departing the airport, I also started to understand why: Even though we were still in Malaysia (or at least on an island that was partially part of Malaysia), it felt a lot more like a different world here!
And now came another great thing that I've learned while travelling with Lori: Even though we were travelling together, we did spend some of the first few days apart from each other, because we both wanted to do different things. And the best part: it was totally fine for both of us! Lori went for a 2 day/1 night trekking tour up the Mount Kinabalu and I decided that it was time for some diving again 🙂 I went diving with a diving school called Scuba Junkie with a great diving instructor named Moris. What I didn't know back then: I would meet Moris again a few times during my travels within the next weeks (hint: read more about this in my blog post about Saigon (Vietnam) and Phuket (Thailand) 😉
After spending two days apart, Lori & I decided to go for another little trip together though, which was really amazing: We found a jungle camp in the North of Borneo called "Tampat Do Aman", where we booked a stay for a few nights. And I have to admit: It was a bit of a challenge to sleep in these "longhouses" (houses in the jungle, where up to 20 people live in one big or small separate rooms) with all of the humidity and mosquitos, but the atmosphere in the jungle camp and especially at the (very close by) beach was amazing! These days at the top of Borneo (yes, we also went to the monument called "Tip of Borneo") made me feel like I was in a different world for a few days. Below some impressions (even though you need to go there yourself to really be able to experience it!). (Sorry for too many pictures, but it is just so beautiful there and I couldn't decide which ones I should show you 🙂 )
Being at the beach and looking at the ocean, really made me want to do some more diving and luckily also Lori was up for it, so when we got back from our Jungle Days, we went back to the same diving school and  booked ourselves another day underwater with Moris.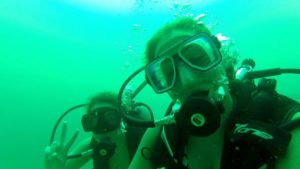 To finish off our tour of Borneo, we also did one last, quite touristy thing: We went on a sunset cruise including dinner! But I have to admit, it was actually really nice and we go to see the Proboscis Monkeys!
We only spend a bit over a week on Borneo, but I have to say, I loved it there and can't wait to go back sometime in the future to even explore more (& finally to see the Orangutans then!)